The book is available again!
Written by Wish Kid Jamie Heath of Barre, Vermont and illustrated by Leonard Kenyon of Arlington, Vermont, Wishes are Medicine! How Make-A-Wish Gave me Hope and Helped me Heal tells the remarkable story of Jamie's recovery from a brain aneurysm and how Vermont Make-A-Wish played an important role in her recovery. With bright, beautiful illustrations, Wishes Are Medicine follows along as Wish Kid Jamie, accompanied by her pet turtle Bob, learns not only to walk and read again, but regains hope and thrives in the face of her condition thanks to her wish to travel fro her home in Barre to swim with sea turtles in Hawaii.
This book is completely Vermont-produced, even the printing, and communicates how wishes can bring hope, strength and joy to the healing process.
Jamie recently completed her Junior year at Spaulding High School in Barre where, in addition to being an honor roll student, she served on the Student Council and Student Outreach Committee. In her free time she volunteers for the Friends of Stowe Adaptive Sports program, an organization that has provided invaluable support to her in achieving her athletic goals. Jamie is a Wish Ambassador for Make-A-Wish Vermont. She regularly gives speeches at Make-A-Wish events and has appeared in public service announcements on both TV and radio for the organization. Jamie lives with her mother in Barre, Vermont. She really, really loves turtles.
P.S. She really did have a pet turtle named Bob!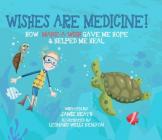 $15.00

ISBN: 9780692145081
Availability: Special Order, Hard to Find
Published: Make-A-Wish Vermont - August 1st, 2018
---