Open to everyone! The Vermont Book Shop (VBS) Book Discussions are held the last Tuesday of every month in the store - unless marked with an *, which indicates variation due to holidays or other scheduling conflicts.
VBS Book Discussion titles are always 20% off in-store and online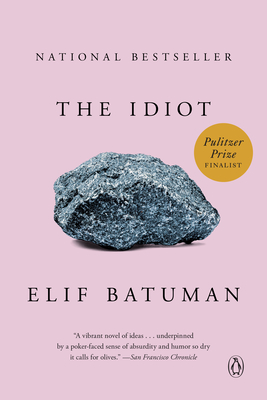 MARCH 27, 7:00 PM -- at The Vermont Book Shop ♦ The Idiot by Elif Batuman
A portrait of the artist as a young woman. A novel about not just discovering but inventing oneself.
The year is 1995, and email is new. Selin, the daughter of Turkish immigrants, arrives for her freshman year at Harvard. She signs up for classes in subjects she has never heard of, befriends her charismatic and worldly Serbian classmate, Svetlana, and, almost by accident, begins corresponding with Ivan, an older mathematics student from Hungary. Selin may have barely spoken to Ivan, but with each email they exchange, the act of writing seems to take on new and increasingly mysterious meanings. At the end of the school year, Ivan goes to Budapest for the summer, and Selin heads to the Hungarian countryside, to teach English in a program run by one of Ivan's friends. On the way, she spends two weeks visiting Paris with Svetlana. Selin's summer in Europe does not resonate with anything she has previously heard about the typical experiences of American college students, or indeed of any other kinds of people. For Selin, this is a journey further inside herself: a coming to grips with the ineffable and exhilarating confusion of first love, and with the growing consciousness that she is doomed to become a writer.
With superlative emotional and intellectual sensitivity, mordant wit, and pitch-perfect style, Batuman dramatizes the uncertainty of life on the cusp of adulthood. Her prose is a rare and inimitable combination of tenderness and wisdom; its logic as natural and inscrutable as that of memory itself. The Idiot is a heroic yet self-effacing reckoning with the terror and joy of becoming a person in a world that is as intoxicating as it is disquieting. Batuman's fiction is unguarded against both life's affronts and its beauty--and has at its command the complete range of thinking and feeling which they entail.
---
PAST MONTHS' SELECTIONS
JULY Diametrically opposed arguments: Why I Am Not A Feminist by Jessa Crispin is a radical, fearless call for revolution. It accuses the feminist movement of obliviousness, irrelevance, and cowardice--and demands nothing less than the total dismantling of a system of oppression and We Should All Be Feminists by Chimamanda Ngozi Adichie, a personal, eloquently-argued essay that offers readers a unique definition of feminism for the twenty-first century, one rooted in inclusion and awareness
AUGUST Yaa Gyasi's extraordinary novel Homegoing illuminates slavery's troubled legacy both for those who were taken and those who stayed--and shows how the memory of captivity has been inscribed on the soul of our nation.
SEPTEMBER The Solace of the Trees is a piercing and resonant debut novel about war and the endurance of the human spirit, and a cautionary tale about the damage that can be inflicted upon war victims when wealthy nations become obsessed with self-protection and retribution. Meet the author at the bookstore event, Wed, October 11 at 7 pm.
OCTOBER Field Notes from a Catastrophe: Man, Nature, and Climate Change is the book that launched Elizabeth Kolbert's career as an environmental writer. It developed out of a three part series in the New Yorker, where Kolbert is a regular contributor. Bill McKibben says it's, "among the few irreplaceable volumes yet written about climate change."
NOVEMBER A dazzling debut novel from Brit Bennett, an exciting new voice and National Book Foundation's 2016 Under 35 honoree, The Mothers is a surprising story about young love, a big secret in a small community--and the things that ultimately haunt us most.
FEBRUARY Richly told and profoundly moving, Pachinko is a story of love, sacrifice, ambition, and loyalty. From bustling street markets to the halls of Japan's finest universities to the pachinko parlors of the criminal underworld, Lee's complex and passionate characters--strong, stubborn women, devoted sisters and sons, fathers shaken by moral crisis--survive and thrive against the indifferent arc of history.